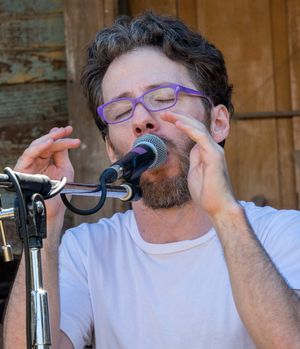 Ed Randazzo is a much-celebrated, award-winning singer-songwriter from Northeastern Pennsylvania.
"… An affable, soft-spoken genuine soul… with a scathing mouthpiece of fire 'n brimstone—part Bob Dylan tortured song-writing introspection, part Mississippi Fred McDowell world-weary, heavy-hearted bluesman… with a Leonard Cohen-Esque delivery."
—Mark Uricheck; Connections Magazine, June 2012
September 2008 would ignite the collaborative music-making friendship between Ed and one of Pennsylvania's most important music fixtures—singer-songwriter & producer Bret Alexander [The Badlees; Breaking Benjamin].  Together, Randazzo & Alexander have released three acclaimed full-length records and a string of local radio stapled singles, including 2012's "Still Cry" and 2015's "I Need a Woman."  Ed and Bret recently marked their ten-year creative partnership in the fall of 2018.
Ed has shared the stage with international recording artists: Spencer Bohren, Gabriel Gordon, Blues Music Award nominee Alexis P. Suter, and Grammy Award winner Mike Farris along with a countless list of local greats, including MiZ, Dustin Douglas, Clarence Spady, Phyllis Hopkins, and Teddy Young. He's also in demand at local venues throughout Pennsylvania—most notably, the annual Briggs Farm Blues Festival as a solo artist and with his trio outfit, Miner Blues.
In 2015, Ed won a Steamtown Music Award for Blues/Rhythm & Blues Act of the Year.
Ed contributed music to the 2017 film, 'Black Guides of Mammoth Cave: A Documentary.' 
His first compilation project celebrates ten years of recording music. 'Who's that Man?: Collected Songs 2008-2018" is available now in the following formats: Digital download, limited edition Compact Disc & limited edition LP!